Odyssey Golf Triple Track Seven OS Putter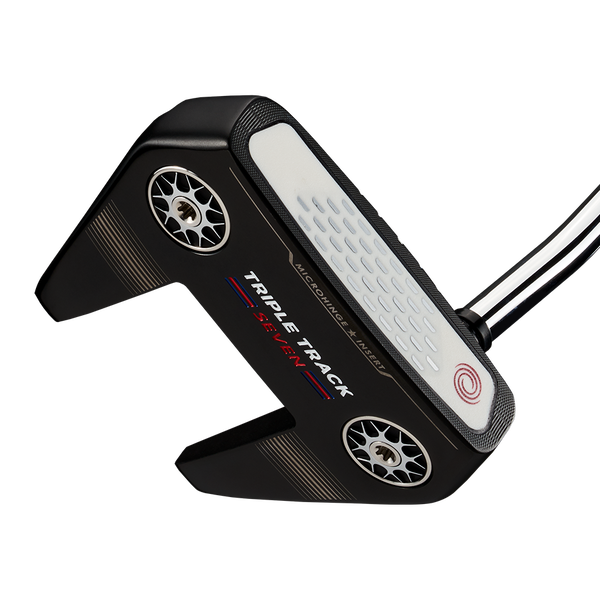 Odyssey is the #1 Putter in Golf, the #1 Putter on EVERY major worldwide Tour, #1 in worldwide putter wins, and the #1 Putter at every major championship in 2019. We're used to setting a standard for success and performance, but we're never satisfied. That's why we're always inspired to deliver amazing technologies and innovations that can help make you a better putter. Even if that inspiration comes from a golf ball.
To be more specific, our new Odyssey Triple Track Putters are developed from Callaway's popular golf ball line, with three lines that are prominently featured at the center of the putter head. Triple Track Technology utilizes Vernier Hyper Acuity, the same visual technology used to land planes on aircraft carriers, to easily improve your alignment for better putting accuracy. And when you can find the right line, you've got a much better chance of making the putt.
New Triple Track Alignment
Developed from Callaway's innovative golf ball alignment system, the three Triple Track lines are prominently featured to help improve your putting accuracy. Triple Track uses Vernier Hyper Acuity for better and more consistent alignment, a key fundamental to good putting. It's a design that's incredibly intuitive and easy to use.
Stroke Lab Weighting
Innovative multi-material shaft saves 40 grams of weight, which is redistributed to the head and grip end of the putter. This completely rebalances the putter for improved tempo and consistency in the stroke, and this major-winning technology continues to dominate on Tours around the world.
Delivery
Free shipping on orders of $99 or more
In-Store Pickup
Buy online, pickup in store.
Free shipping
on orders of $99 or more